Essential Oils for your pet (and you too)!
We believe that our bodies as well as our dog's bodies are constantly bombarded by different chemicals. In an effort to reduced the amount of chemicals our dogs are exposed to, 10 years ago we started using more and more natural remedies including Essential Oils. Part of your puppy's health care and well being is based on natural products. It is very important to me that you continue the same type of protocol and care that I have already started. In order to do that we highly recommend and strongly encourage you to equip your puppy's "medicine cabinet" and your home's "cleaning cabinet" with high quality therapeutic grade essential oils.



The best way to purchase your oils is with a wholesale membership and by purchasing a membership kit. IT's the best savings and the steepest discount! With your new kit the wholesale membership fee of $35 is waived, making all future orders 25%-55% off (just like Sams) plus you also get a deeper discount when purchasing a kit




You also have the option of ordering retail. With this option there are no discounts but you can still purchase the oils you wand and enjoy their benefits.

Need help deciding? Email me and let me know you are interested in adding essential oils to your and your pet's life and I'll help you figure out what oils or kit fit your needs!


Ready to order your kit and enjoy a more natural lifestyle?
Follow these simple steps to order your own essential oils
Step 1: Decide on your starter kit (click on the links for details on my favorite starter kits).
Step 2: Click over to the sign-up page and enter your country and hit continue.
Step 3: Select "Wholesale Prices" and then hit continue. The "Enroller ID" and "Sponsor ID" boxes should already be filled in for you. But if not, enter 2254328 in both boxes and the name should come up as "Dieppa, Josymir "
Step 4: Input your contact and shipping information
Step 5: Select your starter kit. This is where you can specify which starter kit you would like. Below are some of my favorite starter kits about the starter kits!
Step 6: Enter in your payment information and then hit "Process Order Now and Continue"

Home Essentials Kit:
$275 wholesale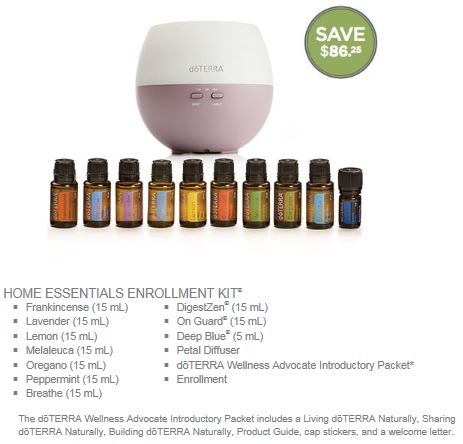 The Home Essentials Kit includes our top 10 most loved essential oils in full-size bottles, plus the 4-hr Petal Diffuser for dispersing oils into the air of your home. This is a great economical kit for those who want the most needed oils in your home right away and you can add to it as needed.
Click Here to go back to the top.

Family Physician Kit:
$150 wholesale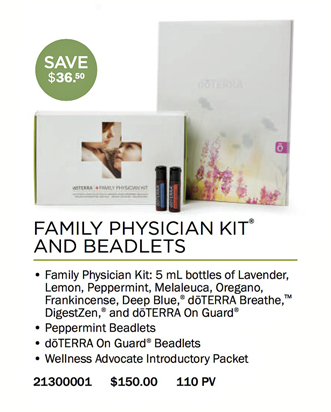 The Family Physician Kit includes the same oils as the Home Essentials Kit but in the smaller 5 ml bottles.This is a great economical kit for those who want to experiment and introduce themselves to the most needed oils for you and your pet. You can add to it as needed.
Click Here to go back to the top.

Natural Solutions Kit:
$550 wholesale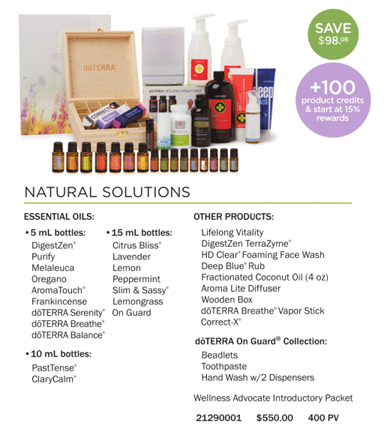 The Natural Solution Kit is our TOP selling kit!
It includes so many wonderful oils that you are going to need in your home, our 8-hour Aroma Lite diffuser, our incredible Lifelong Vitality supplements, a wooden storage box , and some other blends that are so necessary to have, like Balance "grounding" blend and Serenity "calming" blend!
You also get some OnGuard products which are some of my favorites and the TerraZyme digestive enzymes. The Deep Blue Rub is so amazing to have on hand for tired and sore muscles after a long day or workou or can pat your pet over achy joints. When you purchase this kit, you have the option skip ahead and save an additional 15% with a monthly Loyalty Rewards program. This is, hands-down the favorite kit!
Click Here to go back to the top.

Every Oil Kit:
$1,775 wholesale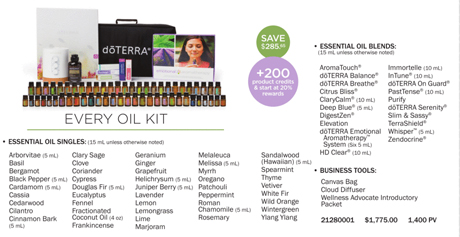 Who doesn't need every oil? This kit is perfect for that person who wants all the oils to make anything they could possibly think of. I hate not having the oils I need to make roller bottles and different DIY recipes. With this kit, you get every single oil doTERRA has to offer, including Melissa (limited availability) and Roman Chamomile, which isn't available to everyone else right now.
You also get a great canvas bag to put all your oils in, and our 8-hour waterless diffuser. You get to skip ahead and save an additional 20% if you participate in our Loyalty Rewards program! You also will get $200 back when you place a qualifying order next month.
Click Here to go back to the top.